At Rostra, we are pleased to announce the release of two all-new cruise control systems designed for the 2010-2016 Chevrolet Express and GMC Savana passenger or cutaway utility vans.
Now available for sale and ready for immediate shipment, part number 250-9509 is for use when adding cruise control functionality to 2010-2012* year-model standard passenger or cutaway Express and Savana vans and includes Rostra's left-hand mount control stalk with a built-in On/Off LED, OBD II interface harness, accelerator pedal interface harness, and a 5-pin relay package for use with vehicles equipped with LED taillights to allow the cruise control system to self-disengage when the brake pedal is depressed by the driver.
As well, cruise control system 250-9608 is for use with 2012*-2016 year-model standard passenger or cutaway Express and Savana vans and includes similar kit components with the exception of the 5-pin relay package as it is not necessary when adding a cruise control system to these vans.
* For 2012 year-model, installer must verify whether the vehicle has a 4-pin or 6-pin brake pedal connector. Vehicles equipped with a 4-pin connector require cruise control 250-9509. Vehicles equipped with a 6-pin connector require cruise control 250-9608
What About Cruise Control Part Number 250-9603?
Due to the release of cruise control part numbers 250-9509 and 250-9608, cruise control system 250-9603 is no longer necessary for use as it was limited in its ability to only allow cruise control functionality on passenger model Express and Savana vans (non-cutaway versions). Due to its limitations, part number 250-9603 will be discontinued by Rostra but distributors can still sell this item to customers wanting to add cruise control to 2010-2016 model passenger vans.
Product Features
Designed specifically for the Chevrolet and GMC electronic throttle control systems, a Rostra cruise control offers a great deal of flexibility when it comes to adding a cruise control system to your vehicle.
Improved Operation

Quick access on/off functionality
Set coast or decrease speed with top button
Tap control switch down for 1 MPH decrease
Resume or accelerate with bottom button
Tap control switch up for 1 MPH increase
Controlled speed resume rate decreases overspeeding
Closer, more accurate control of highway set speed
Interfaces with vehicle CAN bus for real-time speed control
Easier Installation

All-electronic operation decreases component size
Discrete control module for easy interior mounting
OE-style control switch blends with vehicles interiors
Removable accelerator pedal harness with locking connectors
Clutch switch wiring for vehicles with manual transmissions
Automatically acquires VSS (Vehicle Speed Sensor) via CAN bus
Self diagnostic mode alerts you to installation errors
Only requires ignition power and ground connections
Product Images
250-9509
250-9608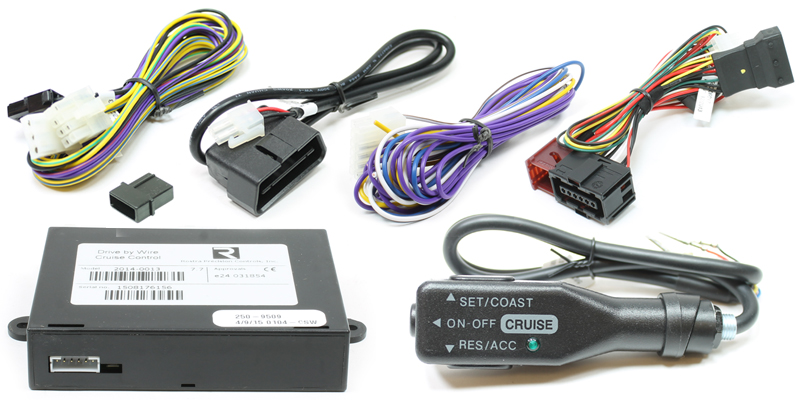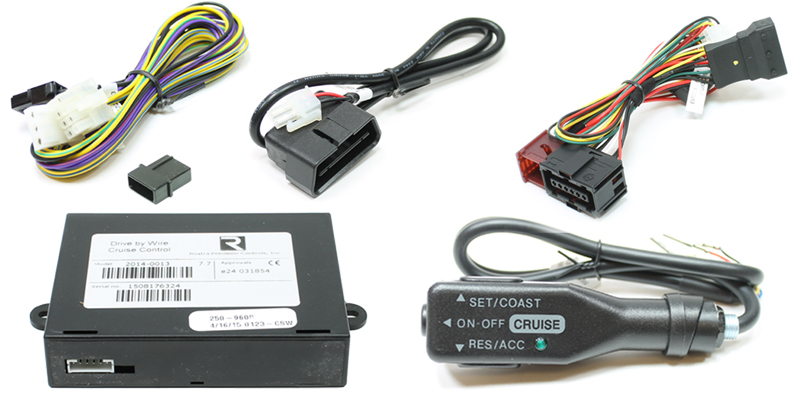 Other Safety and Comfort Products by Rostra
250-8950MD (2-Channel DashCam System)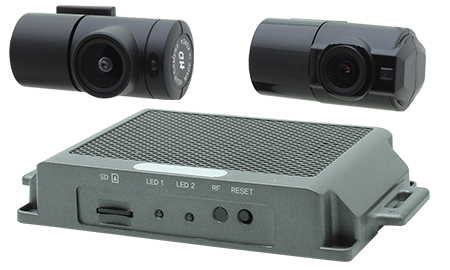 Click image to enlarge...
2-Channel video recording
Front 1080p@30FPS HD Camera
Rear 720p@30FPS HD Camera
Surface-Mount GPS Antenna
Audio Recording Through Microphone
Direct Connection To Wi-Fi Enabled Phone
3-Wire Connectivity For Quick Installation
Voice Prompt System Messages
G-Shock And Motion Detection Modes
Supports Class 10 SD Card Up To 64GB
9V - 28V Operating Voltage
250-8901A (4-Channel Digital Video Recorder)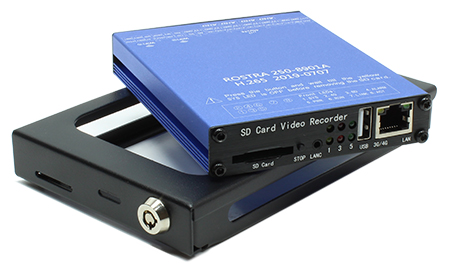 Click image to enlarge...
4-Channel Video Recording
"Bring Your Own Camera" Design
170-degree VGA interior view
Tamper-Proof Mounting Cradle
USB Mouse Included for OSD Access
Optional GPS Antenna
Records PAL and NTSC formats
Class 10 SD Card up to 256GB
Option to Use USB Hard Drive
Includes 4 Camera Input Harness
Includes Monitor Video Output Harness
Includes RCA Adapter Harnesses
Please note, LED DRL systems are only sold through authorized distributors. Please contact Rostra to locate a distributor in your area for your 2014 Tundra LED lights.
Download a copy of Rostra's 3 Year/36,000 Mile warranty registration card by clicking here.