At Rostra, we are pleased to announce the release of two all-new cruise control systems designed for the 2015-2020 Ford F150.
Now available for sale and ready for immediate shipment, part number 250-9545 features our classic left-hand mount stalk style control switch with built-in On/Off LED and all of the same comfort and convenience you and your customers have come to expect from an electronic cruise control system by Rostra including stable highway driving speed control, a plug-and-play type installation and hardware that blends discretely into a vehicle's interior.
As well, cruise control system 250-9545-NS is available and features Rostra's recently- released 250-2867 left-hand mount control switch which provides drivers with additional speed control functionality including cruise control, the ability to avoid unintended speeding by limiting the maximum speed of the vehicle when manually controlling the accelerator pedal, and provides access to the control module's two built-in permanent memory slots that can store driver-preferred speed settings that can be activated at the press of a button to accelerate or decelerate the vehicle to a certain set speed while on the road.
What About Cruise Control Part Number 250-1847?
Due to an unexpected early model-year change, the originally-recommend cruise control 250-1847 for this vehicle has been revised to the 250-9545 and 250-9545-NS. Please update your records to indicate this change as the 250-1847 is not compatible with the 2015-2020 Ford F150.
Rostra Cruise Controls are manufactured in the U.S.A. by the company that pioneered the development of cruise control technology.
Product Features
Designed specifically for the Ford F150 electronic throttle control systems, a Rostra cruise control offers a great deal of flexibility when it comes to adding a cruise control system to your vehicle.
Improved Operation

Quick access on/off functionality
Set coast or decrease speed with top button
Tap control switch down for 1 MPH decrease
Resume or accelerate with bottom button
Tap control switch up for 1 MPH increase
Controlled speed resume rate decreases over-speeding
Closer, more accurate control of highway set speed
Interfaces with vehicle CAN bus for real-time speed control
Easier Installation

All-electronic operation decreases component size
Discrete control module for easy interior mounting
OE-style control switch blends with vehicles interiors
Removable accelerator pedal harness with locking connectors
Clutch switch wiring for vehicles with manual transmissions
Automatically acquires VSS (Vehicle Speed Sensor) via CAN bus
Self diagnostic mode alerts you to installation errors
Only requires ignition power and ground connections
Complete Cruise Control Systems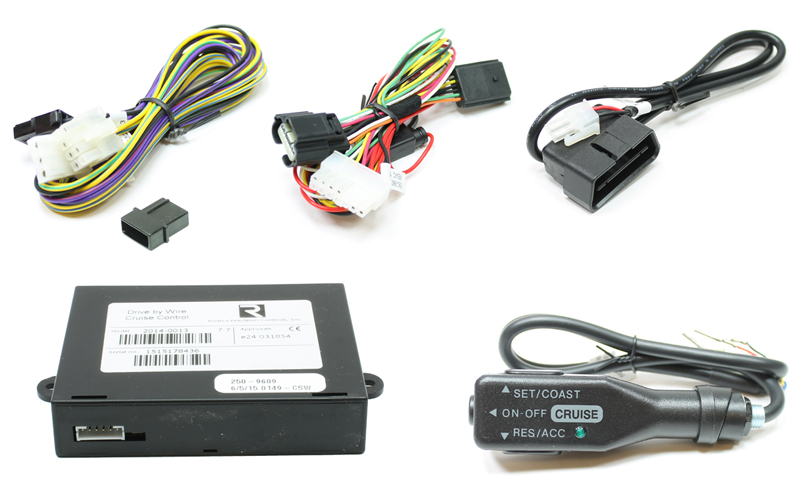 250-9545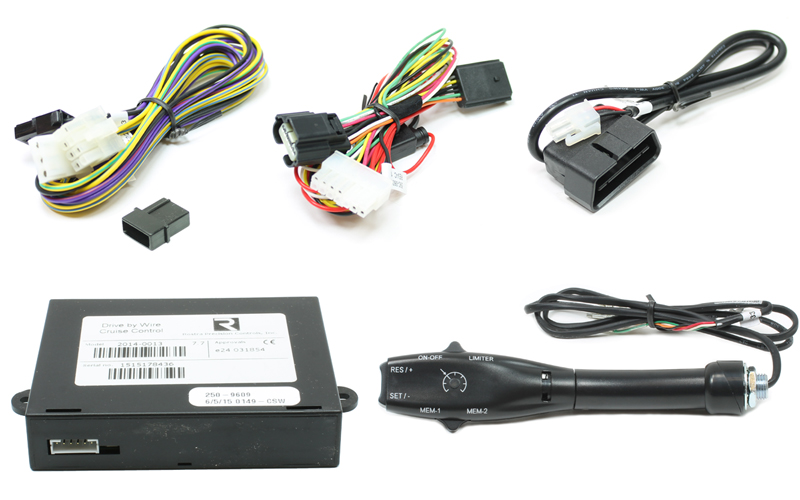 250-9545-NS
Control Switch Photos (For Reference)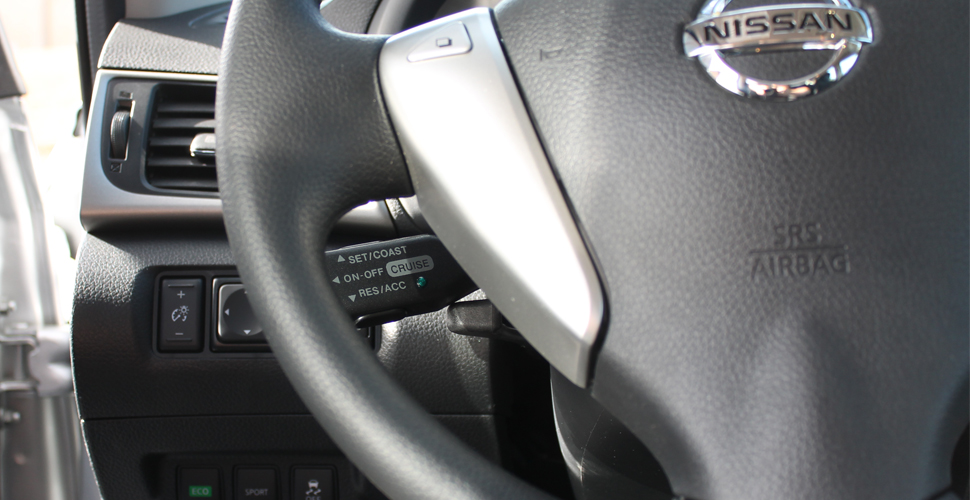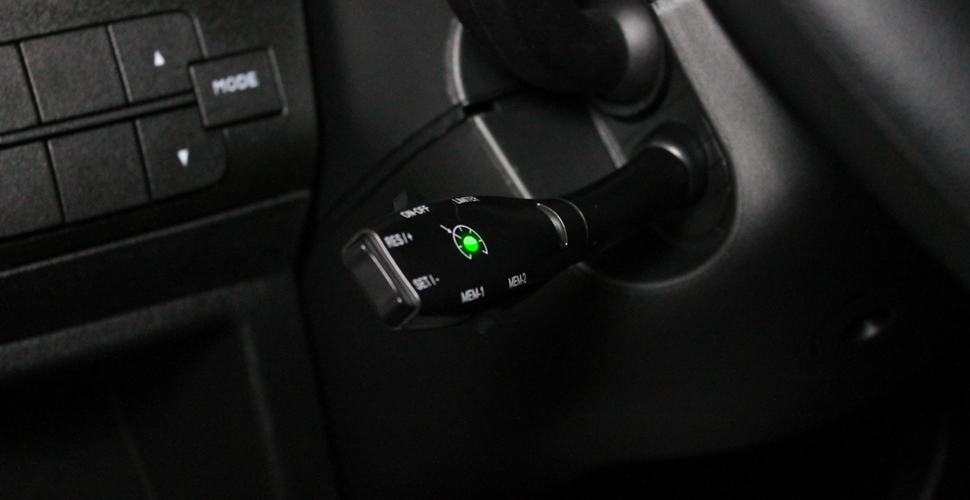 Other Safety and Comfort Products to Consider
250-8645
2015-2020 Ford F-150 CMOS Tailgate Handle Camera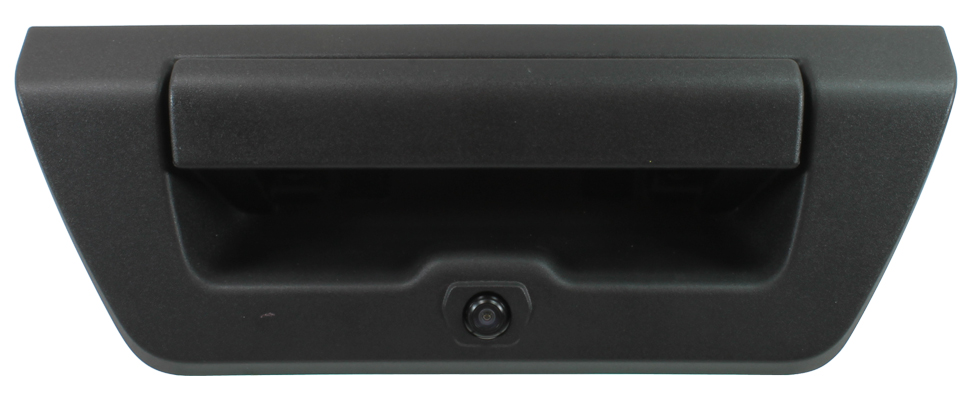 Click image to enlarge...
Tailgate handle with camera pre-installed
1/4-inch

CMOS

color camera
.5 Lux sensitivity
Applications
2015-2020 F150
150-degree peripheral view
Waterproof case with anti-fog lens
Includes 30' extension harness
250-8273
7.3" LCD Mirror with Multi-Camera Capability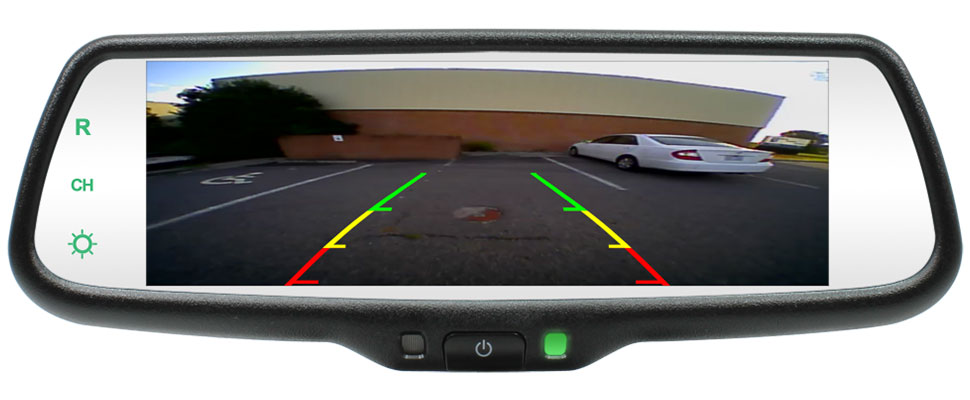 Click image to enlarge...
Mounts to standard rearview mirror base
7.3" Touch LCD Screen
Three camera inputs
Applications
Universal
Turn-signal activated camera inputs
Quick Touch camera activation
Includes 9' extension harness
Download Rostra's cruise control Quick Reference Guide by clicking here.
For the best in driving experience, choose a cruise control from Rostra, the leader in cruise control technology.
Please note, cruise control systems are only sold through authorized distributors. Please contact Rostra to locate a distributor in your area for your 2015 Ford F150 cruise control.
Download a copy of Rostra's 3 Year/36,000 Mile warranty registration card by clicking here.