Rostra 250-8208 4.3" LCD-Equipped Rearview Mirror Updated
At Rostra, we are pleased to announce an incredible update to our RearSight LCD-equipped rearview mirror part number 250-8208. Outfitted with all of the same functionality that our customers have come to expect from the previous version of this mirror, this update increases the usability of this item by adding the following:
Adjustable parking grid lines.
Remote control for accessing built-in functionality.
Dual RCA video inputs with individual triggers.
9-foot video cable provides easier connectivity.

Quick Touch Button Functionality
The Quick Touch button built into the face of the 250-8208 mirror has different functionality available depending on the state of the vehicle.
A. When in reverse, a quick press of the power button will manually increase the overall brightness of the built-in LCD screen. Once maximum brightness has been reached, the brightness will reset.
B. When the vehicle is not in reverse, the power button can be held for two seconds to display video from an auxiliary camera such as a forward-facing or blindspot unit.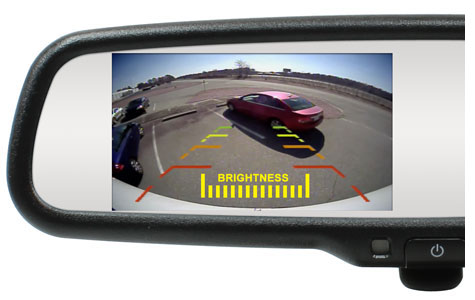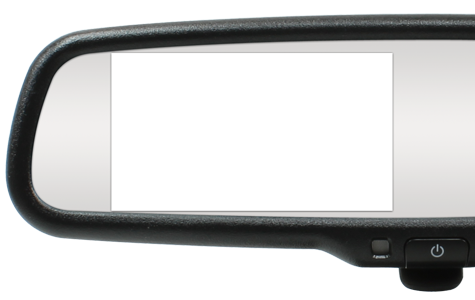 250-8208 Kit Contents
The 250-8208 installation kit includes the LCD-equipped rearview mirror, power/ground/video harness, IR remote control for adjusting the on-screen display, wire cover, standard D-shaped mounting lug, and Hyundai/Kia lug adapter.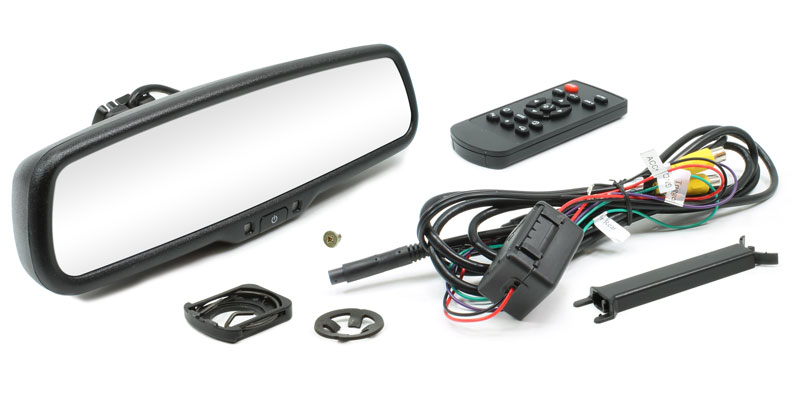 Parking Grid Lines and Remote Control
The 250-8208 mirror features on-screen parking assistance grid lines to aid drivers when maneuvering the vehicle in reverse by helping to provide an estimated distance to any objects in view of the backup camera using color-coded zones.
The remote control included with every 250-8208 mirror allows installers and vehicle owners to make vehicle-specific adjustments including turning parking assistance grid lines on or off as well as aligning the grid lines on-screen for increased parking accuracy.

Auto-Dimming LCD Screen
The mirror's built-in photo sensor automatically dims the LCD screen in low light conditions to ease strain on the driver's eyes while increasing illumination of the LCD during the day to make the screen easier to see in daylight.

The Rostra Difference
At Rostra, we are proud to carry both ISO 9001:2008 and TS 16949:2009 certifications. Our in-house testing facilities allow us to simulate extreme real-world conditions including tests for operation at hot and cold temperatures, along with ingress protection (IP) and vibration. Rostra parts go through hundreds of hours of testing in our lab environment before being made available to our customers.
How to Power Your RearSight Backup Camera System
Stop spending so much time underneath your customer's dashboard searching for an accessory power source. Get SourcePWR PLUS and get your customers back on the road! SourcePWR PLUS drastically reduces your installation times by providing a quick, cost-effective means of supplying power for installed accessories when the vehicle's ignition is powered on, and powering off those accessories when the ignition is off. Click here to learn more about SourcePWR PLUS.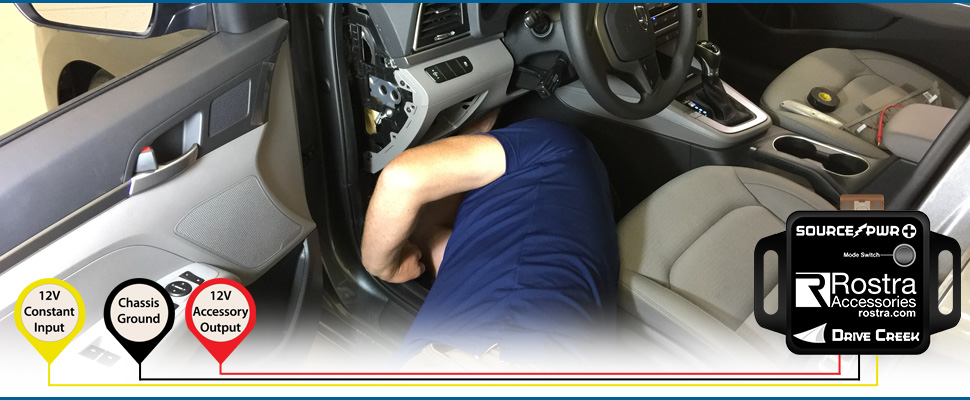 For the best in driving experience, choose a RearSight® backup camera system for your vehicle from Rostra, the leader in vehicle comfort, safety and security.
Please note, RearSight® camera systems are only sold through authorized distributors. Please contact Rostra to locate a distributor in your area.
Download a copy of Rostra's 3 Year/36,000 Mile warranty registration card by clicking here.