2014-2015 General Motors MyLink and IntelliLink Add-On Navigation System by Rostra

Description
Rostra is pleased to announce the availability of our all-new SoftTouch™ Navigation Interface System for late model General Motors vehicles including the artfully redesigned 2014-2015 Chevrolet Silverado and GMC Sierra trucks, as well as other popular passenger vehicles like the Chevrolet Impala and Buick Regal. Designed for use with vehicles equipped with a factory-installed 4.2" or 8" LCD screen and IntelliLink or MyLink systems, part number 250-7620 seamlessly integrates the advanced iGo Primo mapping and navigation suite into the vehicle's factory radio and touch screen system - all while allowing your vehicle to retain all of its original on-screen functions and controls.
But The Factory 4.2" LCD Is Not a Touch Screen...
Although the factory-installed 4.2" LCD screens in the vehicles listed below are not touch-based, part number 250-7620 includes a clear touch panel digitizer overlay meant to be installed in front of the LCD screen to provide users with the ability to interact with the navigation system. While this digitizer does not allow the driver to touch the screen to select options when viewing the factory infotainment screen, the panel is completely transparent when not being used yet ready for input once the navigation system is launched.
250-7620 Product Features
No connections to be made to vehicle ECM or BCM
All features are accessed through the touch screen
Vehicle retains all factory screen functionality
iGo Primo mapping software included with U.S. maps
SD card-based software for allows easy upgrades
Map updates available at naviextras.com
Input for factory or aftermarket backup cameras
Vehicle-specific video switching module
Turn-by-turn voice directions through vehicle speaker

(Direction available in English, Spanish, and French)

Over 6 million points of interest (POI) built in

(POI's include restaurants, hospitals, gas stations, and more...)

Includes GPS antenna with magnetic base for versatile mounting
Included microphone for voice-based commands to system
Applications
2014-2015 Buick Regal

*

2014-2015 Buick Verano

*

2013-2015 Cadillac ATS
2013-2015 Cadillac CTS
2013-2015 Cadillac SRX
2013-2015 Cadillac XTS
2015 Chevrolet Colorado

**

2014-2015 Chevrolet Impala

*

2014-2015 Chevrolet Silverado

**

2015 Chevrolet Suburban

**

2015 Chevrolet Tahoe

**
2015 GMC Canyon

**

2014-2015 GMC Sierra

**

2015 GMC Yukon

**

2015 GMC Yukon XL

**
* For use with vehicles equipped with 8" LCD screen only.
** For use with vehicles equipped with 4.2" or 8" LCD screens. MyLink or IntelliLink systems required for operation. Not for use with vehicles equipped with factory rear-seat entertainment systems or vehicles that are pre-wired for rear-seat entertainment systems with Blue-ray player and motorized screen.
Kit Component Photograph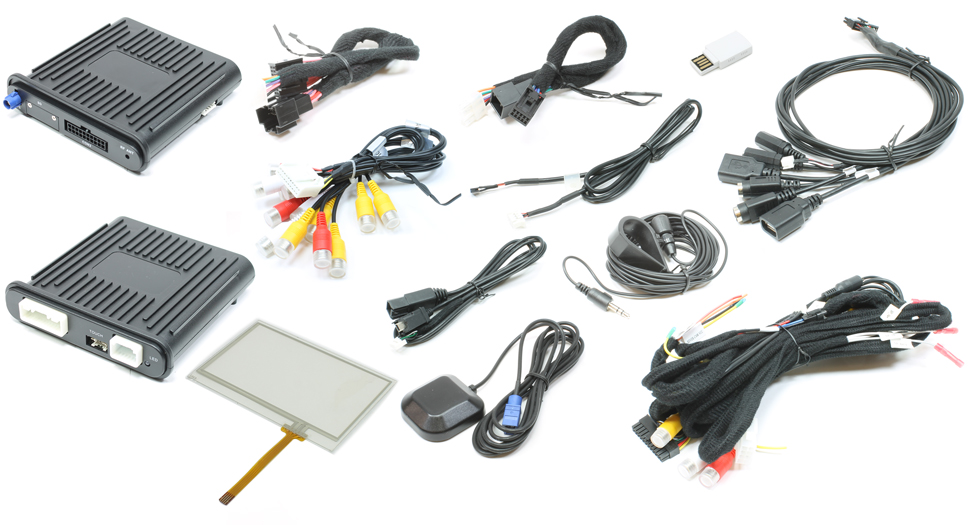 Watch An Installation
Download a copy of Rostra's 3 Year/36,000 Mile warranty registration card by clicking here.
Please note, SoftTouch™ Navigation Systems by Rostra are only sold through authorized distributors. Please contact Rostra to locate a distributor in your area for your Chevrolet, GMC, or Buick add-on navigation system.