Rostra Precision Controls Technical Support
Technician Identification Number (TIN) Sign-Up
Our Technician Identification Number (TIN) sign-up form recently moved. Please click here to access it and receive your TIN for technical support.
Product Announcements, Troubleshooting, and Technical Tips
Cruise Control Notes
We do not recommend using any Rostra cruise control systems on motorcycle, ATV, or other non-automotive applications as we do not validate the operation of these units on these vehicles. Due to safety concerns surrounding these installations, Rostra representatives are unable to provide technical support on these applications.
Frequently Asked Questions
What are my options for acquiring cruise installation information?
Located below this FAQ section, you will find installation manuals for each product Rostra Precision Controls, Inc. manufacturers including aftermarket cruise controls, Magna/RearSight® backup camera systems, BackZone Plus ultrasonic parking assist systems, ComfortHeat seat heaters, and ComfortSeat automotive lumbar support.
To acquire both vehicle speed signal (VSS), brake wire, and tachometer wiring colors and locations, please use our VSS Search above. If you do not see your vehicle listed, please download Rostra forms Form #4428 (for vehicles built between 1996 and 2009) or Form #4429 (for vehicles built between 1986 and 1995).
Does a Rostra cruise control kit come with everything I need for an installation?
The majority of Rostra-manufactured cruise controls systems are sold as complete kits. As well, Rostra manufactures universal cruise control units that often require the purchase of additional items to function with certain vehicles including vehicle speed signal (VSS) generators and control switches. To get a listing of exactly what parts will be necessary for your vehicle, please use the Vehicle Search menu at the top of the page or download our Cruise Control Quick Reference Guide. If you have questions about a customized cruise kit or other vehicle applications, feel free to call our Customer Service department at (800) 782-3379.
Where is the LED on a Rostra Global Cruise unit?
The LED is a surface-mount light on the circuit board to the left of switch number ONE of the programming switches.
Where are the programming switches on a Rostra Global Cruise unit?
The programming switches are located under the black rubber grommet on top of the cruise module. (See images below)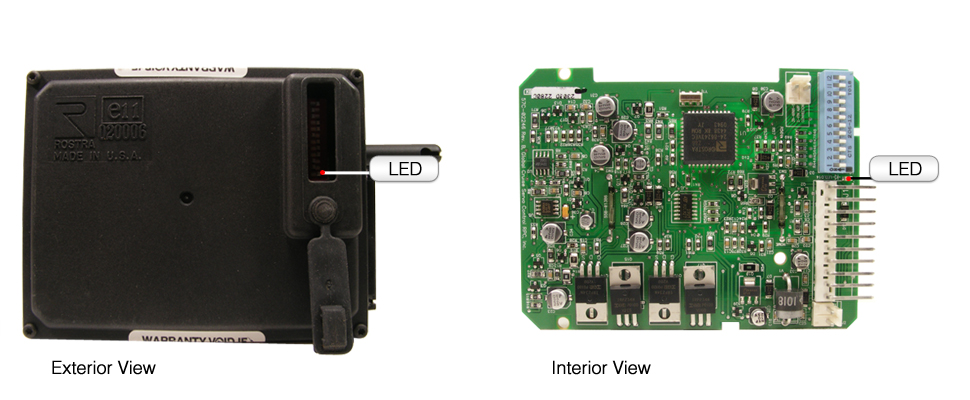 What is Gain (sensitivity)?
Gain is how the cruise control reacts to both road conditions and engine size. Always start at the factory setting which is Mid-Gain. If the vehicle surges while the cruise is engaged, you will need to adjust the gain setting. A fast surge, when the vehicle speeds up rapdily above the cruising speed, requires the gain to be lowered. Set the gain to Low or Extra-Low if needed. A slow surge, where the vehicle slows well below the cruising speed, requires the gain to be raised to High.
What is Engine/Setup Timer?
Engine/Setup Timer is how fast the cruise control retracts the cable once the cruise is set. Always start at Low. If the vehicle drops below the set cruising speed but then recovers, set to Medium. Set to High or Extra-High if still not acceptable.
Will a steering wheel-mounted switch work on my vehicle?
RF steering wheel-mounted switches can be installed on several vehicles, but are not recommended for every vehicle. To find out if your vehicle has an RF switch available, check out our application guide.
What if my vehicle is not listed?
Have no fear! Just because your vehicle is not listed in our application guide doesn't necessarily mean we don't offer a cruise control kit for it. Call our customer service department at (800) 782-3379 for specific application questions.
LED Tail Lights Note
The use of LED tail lights requires a five-function automotive relay to bypass the brake system. LED tail lights do not let the violet wire (cold side of the brake switch) see ground through the brake lights, themselves. Wiring in a relay is as follows: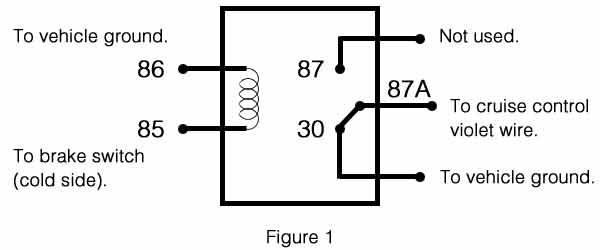 Click here to download a PDF version of this relay wiring diagram.
Note:
All settings are based on 1/8-inch slack in cruise control cable. More slack will cause the cruise control to surge or lose speed once set.
Product Installation Manuals
Aftermarket Electronic Cruise Control Systems
Out of Production Cruise Control Systems (No Longer Supported)
The below manuals are available for download for aftermarket cruise control systems that are no longer in production from Rostra Precision Controls. Rostra no longer provides technical support for these model cruise control units.
BackZone PLUS, FrontZone, and Park-Pro HD Ultrasonic Parking Assistance Systems
Con-Verse
Bluetooth

® Hands-free by Rostra
DashCam Dashboard/Windshield Video Recording Systems
ComfortHeat/ComfortSeat Automotive Seat Heaters and Lumbar Supports
DRL LED Daytime Running Light Systems
RearSight® LCD Interface Backup Camera Systems
SoftTouch™ Add-On Navigation Systems
Navigation System Firmware Update (0513)
Email Us
For general product inquiries, or to find a distributor in your area, please use the form on our Contact page. For technical assistance with automotive accessories via e-mail, please fill our the form below and one of our experienced technical service representatives will contact you soon. For assistance with vehicle application information, please call us toll-free at 1-800-782-3379.
The Bluetooth® logo is a registered trademark owned by Bluetooth SIG, Inc. and any use of such mark by Rostra is under license. Other trademarks and trade names are those of their respective owners.
The Trademark BlackBerry is owned by Research In Motion Limited and is registered in the United States and may be pending or registered in other countries.
iPhone is a trademark of Apple Inc.
© 2015 Rostra Precision Controls, Inc. | Phone: (800) 782-3379 | Fax: (910) 276-1354 | 2519 Dana Dr. | Laurinburg, NC 28352