Custom LED Daytime Running Lights by Rostra
Custom LED Daytime Running Lights now available for the Jeep Wrangler JK, 2007-2014 Toyota Tundra, Tacoma and FJ Cruiser! Click here for more information.
Be seen! With an all-new, high-powered LED aftermarket automotive Daytime Running Light system by Rostra, you're sure to get noticed! Rostra DRLs are offered in both a universal and customized design. Every unit includes a color-matched set of LED lamps to ensure uniform color. Trim bezels and bracketry are also included to ensure secure fitment presenting an OEM finish to your vehicle. Each DRL assembly is powered by a waterproof ballast module that ensures clean, stable voltage to the LED lamp allowing each LED to reach their maximum lifetime potential.
Be safe! The safety benefits of having a vehicle equipped with Daytime Running Lights are presented in numerous studies from around the world [1][2][3] . The greatest safety increase is with offset frontal impacts, commonly occuring when a driver turns onto a side street crossing the path of an oncoming vehicle. Several countries and states legally require DRLs and studies have shown as much as a 38% reduction in offset frontal impacts as a result of daytime running lights becoming mandatory. Discounts on your vehicle's insurance policy may apply as well!
Be amazed! Rostra's Daytime Running Lights are a cut above the rest for several reasons. During the daytime, the 1 Watt LEDs are on at full intensity so that even in direct sunlight, the car's visibility is greatly enhanced. When the headlights are powered on, the ballast module reduces the power of the LEDs minimizing any visual discomfort to other drivers. When using the turn signal, the LEDs will dim to increase visibility.
Newest DRL System
2007-2017 Jeep Wrangler 260-1024-JEEP
Click here for more information...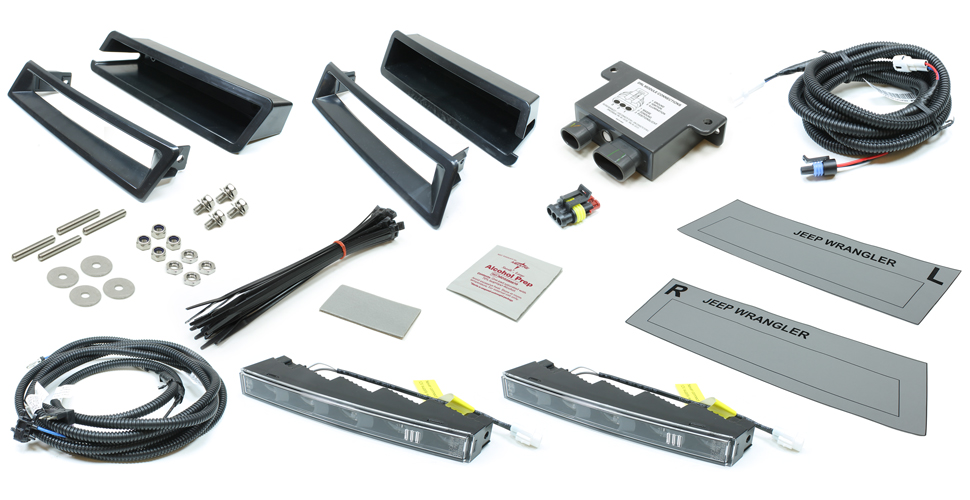 Complete LED DRL System Installation
Part Numbers
1 Tessmer, J.M. 2004. An assessment of the crash-reducing effectiveness of passenger vehicle daytime running lamps (DRLs). Report no. DOT HS-809-760. Washington, DC: National Highway Traffic Safety Administration
2 Cantilli, E.J. 1970. Accident experience with parking lights as running lights. Highway Research Record 332:1-13. Washington, DC: Transportation Research Board.
3 Farmer, C.M. and Williams, A.F. 2002. Effects of daytime running lights on multiple-vehicle daylight crashes in the United States. Accident Analysis and Prevention 34:197-203.