Add Factory Navigation to Chevrolet and GMC Vehicles with SoftTouch OE by Rostra
At Rostra, we are pleased to announce the expansion of our SoftTouch™ Navigation Systems product line. Available for immediate purchase, we're excited to now offer an OE-grade solution to upgrading the factory infotainment system in your General Motors vehicle to include GPS and turn-by-turn directional mapping technology from HERE*.

Originally available for vehicles with upper trim level packages only, these navigation control modules allow installers to easily upgrade popular GM cars, trucks, and SUVs with factory-installed 8" LCD screens and IntelliLink, CUE, or MyLink systems. Installed in just minutes for most applications, our SoftTouch OE systems require no invasive deconstruction of the factory radio and LCD screen and connect to wiring already pre-installed on the vehicles listed below.
* HERE is a mapping service from Nokia. Maps are upgradeable by visiting navigation.com
Specialty-Programmed Part Numbers and Application Listing
Note: Vehicles listed below must have a factory-installed 8-inch LCD screen. SoftTouch™ navigation systems are not available for 7-inch or 4-inch LCD screens.
250-7716D
Buick
2014-2015 Lacross
2014-2015 Regal
Cadillac
2014-2015 ATS
2013-2015 CTS
2013-2015 SRX
2014-2015 XTS
Chevrolet
2014-2015 Colorado
2014-2015 Corvette
2014-2015 Impala
2014-2015 Silverado 1500-3500
2014-2015 Suburban
2014-2015 Tahoe
GMC
2014-2015 Sierra 1500
2015 Sierra 2500
2015 Yukon
250-7717D
Buick
2013-2017 Enclave

***

2013-2016 Encore

***

2013-2017 Verano

***

Chevrolet
2011-2015 Camaro

***

2013-2016 Cruze

***

2013-2017

**

Equinox

***

2013-2015 Malibu

***

2013-2017 Traverse

***

2011-2015 Volt

***

GMC
2013-2016 Acadia

***

2013-2017 Terrain

***
250-7718D
Buick
2018 Enclave
2017-2018 Encore
2016-2019 Envision
2016-2018 Lacrosse
2016-2018 Regal
Cadillac
2016-2017 ATS
2016-2017 CTS
2017-2018 CT6
2016 SRX
2016 XTS
2017-2018 XT5
Chevrolet
2016-2018 Camaro
2016-2018 Colorado
2016-2018 Corvette
2017-2018 Cruze

***

2018 Equinox

***

2016-2018 Impala (Late 2016)
2016

*

-2018 Malibu
2016-2018 Silverado 1500-3500
2016-2018 Suburban
2016-2018 Tahoe
2018 Traverse

***

2016-2018 Trax
2016-2018 Volt

***

GMC
2017-2018 Acadia

***

2016-2018 Canyon
2016-2018 Sierra 1500
2016-2018 Sierra 2500
2016-2018 Yukon
Vehicle Applicability Notes
* Must verify on vehicle.
** If vehicle does not have factory DVD/CD Player then the CD icon will not function. Adding CD/DVD is possible. Contact Rostra Customer Service for details. The factory trim for the CD player must be obtained directly from a dealership.
*** This is a complete radio exchange NOT an HMI module. Vehicles may require trim specific kits. Final Prices can only be quoted after a VIN is supplied and verified by customer service. NOTE: Allow yourself extra installation time for the Radio Exchange units.
Product Photos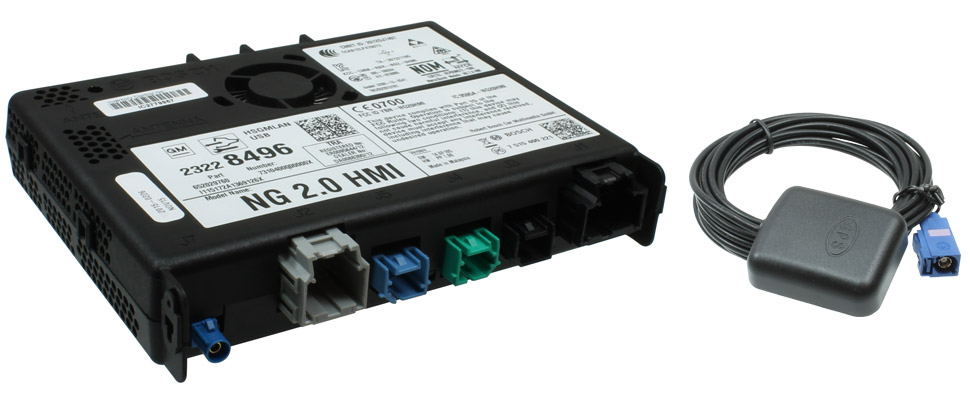 Product Features
Designed for use on MyLink, IntelliLink, CUE with 8" screen.
Features

HERE

voice-guided mapping from Nokia.
Driver can speak commands with steering wheel controls.
Thousands of points of interest (POI) automatically included.
Includes road and highway maps for USA, Canada, and Mexico.
GPS signal provided through included magnetic base antenna.
Installs in just minutes on most vehicles.
Plug-and-play using factory wire harness already on the vehicle.
Requires no dismantling of factory LCD components.
Annual map updates available from navigation.com.
Product Installation (2015 Chevrolet Silverado for Reference)
Other Safety and Comfort Products for Your General Motors Vehicle
250-8425-LC
2014-2017 Silverado/Sierra tailgate camera system. View GM applications above.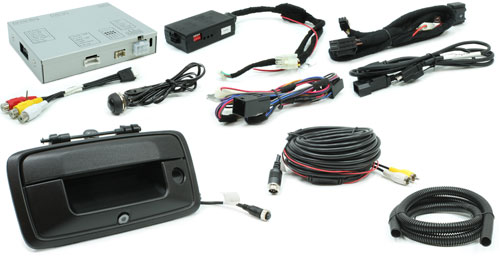 Click image to enlarge...
Features
For use with 4.2" or 8" factory screen

*

1 Lux 1/4-inch

CMOS

color camera
Weatherproof mating connectors
Factory-style tailgate-handle
Intelligent moving parking grid lines
No dealer activation of camera required
Waterproof camera case with anti-fog lens
Camera displays automatically in reverse
Completely plug-and-play installation
Provides power/ground/reverse from CAN
Retain all MyLink/IntelliLink/CUE functionality
* Not for use on vehicles equipped with factory rear seat entertainment system.
250-8651-CAM
2007-2011 Silverado/Sierra tailgate camera with video interface. View Chevrolet/GMC applications above.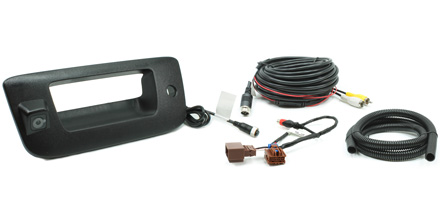 Click image to enlarge...
Features
.1 Lux 1/4-inch

CMOS

color camera
Weatherproof mating connectors
Low Lux sensitivity for low-light viewing
150-degree peripheral view
Dealer activation of camera required
RCA video input adapter
Includes 30-foot extension harness
Factory-fit tailgate handle
For the best in driving experience, choose a add-on navigation system from Rostra, the leader in vehicle comfort, safety, and convenience.
Please note, SoftTouch OE Navigation Systems are only sold through authorized distributors. Please contact Rostra to locate a distributor in your area for your Chevrolet or GMC navigation needs.
Download a copy of Rostra's 3 Year/36,000 Mile warranty registration card by clicking here.