2014-2015 Chevrolet Silverado & GMC Sierra Tailgate Camera Mirror/Monitor
A new series of tailgate-handle backup cameras and 3.5-inch LCD-equipped rear view mirror/monitors with OnStar™ controls for the 2014-2015 Chevrolet Silverado and GMC Sierra 1500 are now available from Rostra. Included with each system pictured below is Rostra's 250-8622 tailgate-handle CMOS color camera with a Magna rear view mirror offered with or without compass and temperature readout built-in. For those customers that would like to add the compass and temperature functionality, a universal temperature probe is included with every camera system that includes our 250-8803 mirror. Each system sold includes a 30-foot extension harness to cover the length of the truck and all necessary mounting hardware and electrical connectors. As well, each mirror includes our custom 10-pin to 16-pin video adapter harness to provide a plug-n-play installation.
Our Silverado and Sierra tailgate camera takes advantage of pre-existing mounting hardware for the factory tailgate-handle and requires no drilling or body modifications for installation. Also, the 2014 Silverado and Sierra tailgate handle camera system features selectable parking grid lines with three built-in safety zones that can be turned on or off to suit the customer's preference.
Rostra also offers a complete line of tailgate cameras and monitor systems for such popular applications as the 2004-2014 Ford F-150, F-250, and F350, the 2007-2013 Toyota Tundra, 2010-2014 Dodge Ram Trucks, and multiple other universal rear vision solutions for any car!
Photo Gallery
Mirror/Monitor/Camera Photos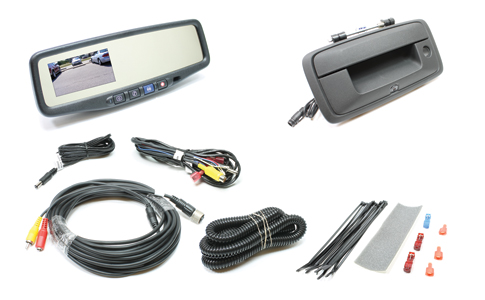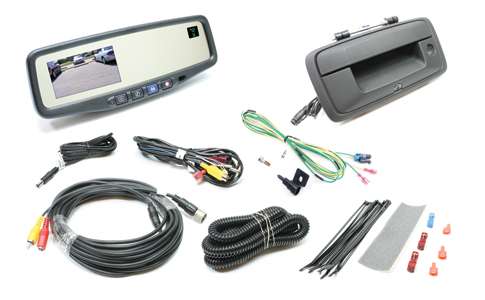 Click image to enlarge...
Click image to enlarge...
Why Are These Mirror/Camera Kits Listed Only For 1500 Model Trucks?
When General Motors changed the overall body style of the Silverado and Sierra pickup trucks in 2014, one minor change that did not carry over to the 2500 and 3500 HD models was the truck's tailgate. These two model trucks continue to use the tailgate and tailgate-handle from the 2013 year-model and can still use Rostra's 250-8569 (black) or 250-8618 (chrome) tailgate-handle cameras, but these cameras must be paired with our recently revised mirror kit part number 250-8802-GM14 or 250-8803-GM14 (below).
Standalone Mirrors with RCA Video Input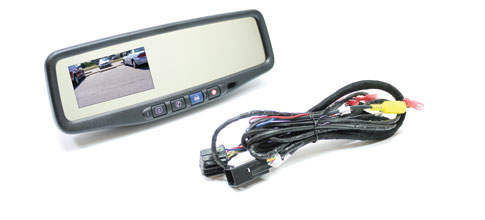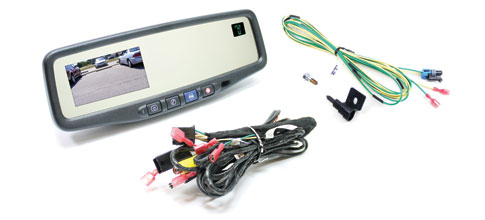 Click image to enlarge...
Click image to enlarge...
Why The New Part Number for Rostra's 250-8802 and 250-8803 Mirrors?
In 2014, General Motors began supplying these iconic pickup trucks with a new variation of their former OnStar-equipped rear view mirror. Previously, these trucks were outfitted with a 16-pin wiring harness and the 250-8802 mirror was completely plug-n-play. Now that the factory harness has been updated to a 10-pin variety, Rostra has created a new version of our adapter harness to allow installers to continue this plug-n-play installation while adding any RCA-equipped camera.
Silverado/Sierra Installation Video
Installed Photo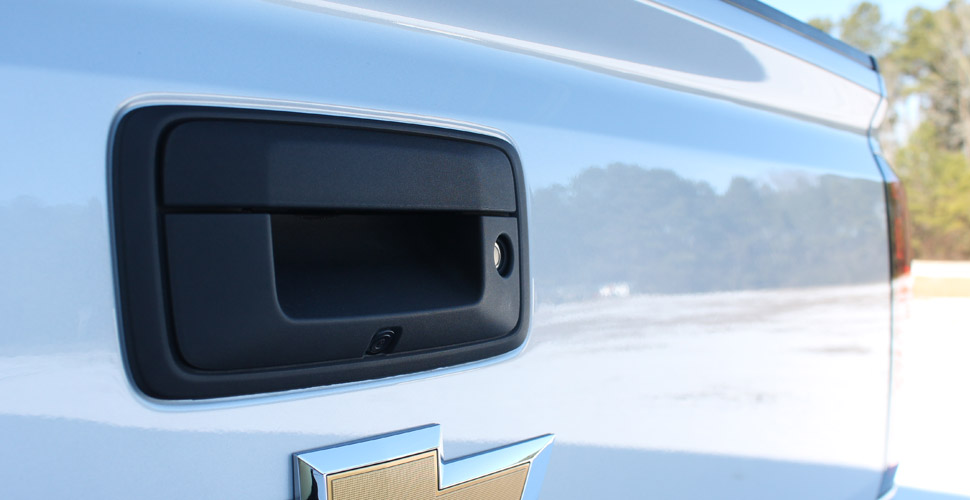 Please note, RearSight Backup Camera Systems by Rostra are only sold through authorized distributors. Please contact Rostra to locate a distributor in your area for your 2014-2015 Chevrolet Silverado or GMC Sierra tailgate handle camera.
Download a copy of Rostra's 3 Year/36,000 Mile warranty registration card by clicking here.