2013-2015 Honda Accord Add-On Navigation Now Available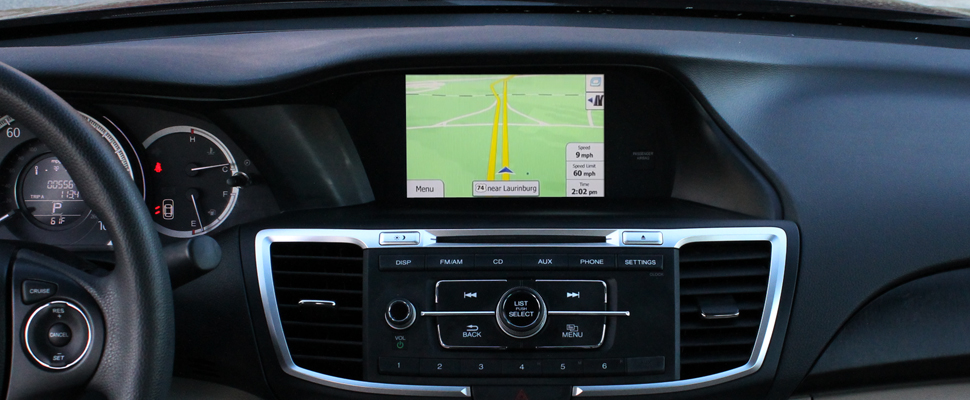 Description
Rostra is pleased to announce the availability of our all-new SoftTouch™ Navigation Interface System for the 2013-2015 Honda Accord. Designed for use with vehicles equipped with a factory 8" LCD screen, part number 250-7618 integrates the advanced iGo Primo mapping and navigation suite into the vehicle's factory radio and LCD screen system - all while retaining all OEM functions and controls. The SoftTouch Navigation Systems includes a touch panel overlay that is installed over the factory LCD screen to provide access to the navigation features through touch-based controls.
Applications
2013 Honda Accord
2013 Honda Crosstour
2014 Honda Accord
2014 Honda Crosstour
2015 Honda Accord
2015 Honda Crosstour
Product Features
No connections to be made to vehicle ECM or BCM
Vehicle-specific video interrupt wire harnesses
All features are accessed through the touch panel
iGo Primo mapping software included with U.S. maps
(Map updates available at naviextras.com)
Input for factory/aftermarket backup camera
Input for factory side-view camera
Turn-by-turn voice directions through included speaker

(Direction available in English, Spanish, and French)

Over 6 million points of interest (POI) built in

(POI's include restaurants, hospitals, gas stations, and more...)

SD card-based software for allows easy upgrades
Includes GPS antenna with magnetic base for versatile mounting
Watch An Installation
Download a copy of Rostra's 3 Year/36,000 Mile warranty registration card by clicking here.
Please note, SoftTouch™ Navigation Systems by Rostra are only sold through authorized distributors. Please contact Rostra to locate a distributor in your area for your 2013-2015 Honda Accord add-on navigation system.